5 Things to Do If You Can't Get a Class You Wanted
Persist
If you're signing up for classes and the one you want is already full, don't give up hope. In between semesters, and during the first week of classes, students swap around their schedules nonstop. Just because the class is full when you first go to sign up doesn't mean that someone won't drop it before the semester actually begins.
Keep checking back. It's not unusual for a spot to open up. It's also possible on some software to turn on notifications for when a class opens up. If you can, turn those on, so as soon as a slot opens you'll get a text or email and can jump on it!
Wait
If a spot doesn't open up, it's not the end of the world. Most classes are offered either every semester or on a yearly cycle. If you're an underclassman, you'll have plenty of chances to sign up for the course before graduation rolls around. Use the time until then to sign up for another class you need for your major or to knock out another gen ed requirement.
Talk to Your Advisor
If you need the class to graduate, or if this is your sole opportunity to take the class for whatever reason, your advisor (or an advisor in the class's department) might be able to hook you up with an extra seat. You can talk to the professor about this, too. Faculty understand that some classes are hard to get into, and they're generally flexible about enrollment if you have a good case for why you need the class right now. And if you still can't get into the class, your advisor may be able to substitute another class you're taking to fulfill the credit requirement of the one you can't get into.
When in doubt, always talk to your advisor. They're there to make sure you graduate on time and get the education you deserve.
Broaden Your Horizons
Think of an empty slot in your schedule not as a letdown, but as an opportunity to take a class that you wouldn't have thought about taking otherwise. One of the reasons to attend college is to expand your knowledge on a vast variety of subjects. You don't have to stick only to courses in your major or minor departments. Take an intro class in an area that sounds interesting. Take a class in something you've never heard of before. Take a class you pick at random! You get the most out of classes whose material is brand new to you, and, who knows, you may end up finding a subject you'll want to study further.
Don't Worry
It's impossible to take every class that sounds interesting in the four of five years it typically takes to earn a bachelor's degree. There's always going to be something you'll look back on and wish you could have taken. But instead of mourning the loss of that class, be thankful for all the ones you did get into. Remember that you can always study subjects outside of a class environment. Google and YouTube are your friends!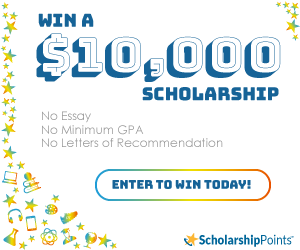 Win a $2,500 Scholarship!
Join ScholarshipPoints today and be automatically entered into our monthly $2,500 giveaway.