5 Things I Never Used When I Moved Into My Dorm
Going off to college for the first time can be very exciting. Months in advance, you start thinking about all the things you will want to do once you get there, how you'll decorate your dorm, and what you'll want to take. It's easy to get carried away and pack all of your worldly possessions, afraid you'll find yourself at school without something you "need," but in reality, many of the things you thought you couldn't live without will never be used.
Pro tip: College is very simple. Only take the necessities.
Here are some things I took when I moved into my college dorm, but never used.
Iron and Ironing Board
My first year in college, I thought this would be a necessity. I bought a new ironing board and iron, but only used it one time. You will be so busy with classes and your life that you won't be worried about ironing a shirt or a pair of pants that got wrinkled. Also, leggings don't wrinkle, so…
Movies
Who needs to take DVDs and Bluerays when you have Netflix and Hulu Plus? Unless you have an all-time favorite movie that will never be on Netflix or on TV, it will be a waste of space. Again, I took several movies with me to college, but I never watched them, not even once.
Personal Books
Having to study from your textbooks might turn you off to reading for fun. I would hold off on taking leisure books to college because, again, if you never touch them it will just be a waste of space. Space is already limited when you're living in a dorm, especially if you have a roommate. If you find you can't live without them, grab a couple on your next trip home. You can also check out books from the library to your e-reader app, saving even more space.
Clothing Items You Haven't Worn In Months but Take Anyway
If you haven't worn that yellow t-shirt maxi dress in six months, what makes you think you'll wear it when you go off to college? If you haven't worn something in a very long time, don't pack it, because it still won't be worn. Keep in mind that you will be shopping throughout your semester as well, so if you take a bunch of clothes you won't wear, you won't have space for the new items you buy.
Planner
As much as I wanted to be one of those organized people who buy planners and actually use them, I was not. I bought two planners and they both went to waste. I never remembered to take them to class, so spiral notebooks quickly became my go-to place to put down assignments and important dates.
College is very exciting, especially if it's your first time away from home on your own. You want to make sure you have something for every scenario, but that's just not realistic. Pack only the things you know you'll use. You can always buy something you find you need, and things you already have at home are only a drive or a trip through the mail away!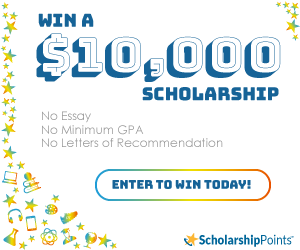 Win a $2,500 Scholarship!
Join ScholarshipPoints today and be automatically entered into our monthly $2,500 giveaway.