5 Simple Ways to Show Your Mom Some Love This Mother's Day
Now, hopefully, you've been treating your mom like the queen she is for most of the year. I mean, moms are great! They do so much for us, and sometimes they forget to do anything for themselves. This Mother's Day, show her how much you care, and make sure to do something extra special for your momma. These five ideas will surely make her smile:
Clean the House
This is probably the number one way to any mom's heart. I know my mom loves a clean house, and I bet that your mom would too. Before she even has a chance to say, "This house is getting dusty/ messy/ dirty again," pick up a vacuum and get to cleaning! She'll definitely appreciate it.
Breakfast in Bed
Who doesn't like breakfast in bed? Let your momma know she's (extra) appreciated on Mother's Day by surprising her with a nice meal. Your breakfast can range from simple to fancy; either way, your mom's going to love the effort you put into it.
Take Her Out
For Mother's Day, why not take your mom out? Take her to dinner, for a nice walk, shopping, to the spa…whatever she likes. Plan a day out just for the two of you (and your sibs, if you'd like) to hang out. It's an inexpensive and fun idea that will create a long-lasting memory for both of you.
DIY Project
Remember when you were a little kid, and you'd make your mom art projects at school? Her face would light up and she always seemed to love them, no matter how ugly they were. Even though you're older now, I'm sure your momma would still appreciate a DIY gift. Some fun ideas are photo gifts, cards, and crafts.
Handwritten Letter
This Mother's Day, why not go old-school and give her a nice, handwritten letter? There's something about letters that is just so personal and sincere. You can write as much or as little as you'd like, but I guarantee that a hand-written letter will definitely make your momma feel loved.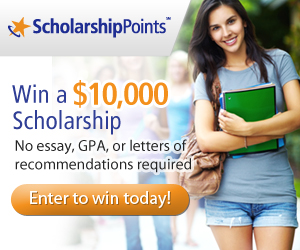 Win a $2,500 Scholarship!
Join ScholarshipPoints today and be automatically entered into our monthly $2,500 giveaway.