5 Pieces of Advice for Networking as an Introvert
Networking is one of the most vital parts of breaking into an industry. Making connections can help you get (and keep) jobs, grow your start-up, or move up in your current company. It can boost your corporate worth and offer you many more opportunities than you could have imagined.
The process of networking involves visiting with industry professionals at a conference or other professional meeting, and mingling with them to make connections for future jobs and opportunities. It's all about finding as many people as possible, and asking them how you might be able to learn from them while contributing to their goals. For a lot of people, talking to strangers in this way is a piece of cake.
But what about introverts? Many introverted professionals, like myself, struggle to take advantage of networking opportunities, oftentimes standing in the corner of the room alone or with the one person we know. If that sounds like you, here are some ways to break out of your shell, and take advantage of the situation:
1. Prepare ahead of time.
If thinking on-the-spot is especially difficult for you, don't put yourself in that position! While Kirstie Brewer from The Guardian advises against planning an entire elevator pitch (a short, pre-prepared summary about you), as it can be unnecessarily stressful trying to remember the whole thing, there's nothing wrong with preparing some questions to ask (or some answers to frequently asked questions) before you get to the event. If you need, you can write these questions and answers down on a notepad or in your phone, in case your brain forgets in all the commotion.
2. Arrive early.
No one wants to be the first person at the party — but this isn't true for networking situations. Being one of the first to the event means that large groups of intimidating moguls have yet to form. For the introvert, breaking into to these groups can be nearly impossible, but if you arrive before they develop, you'll have an advantage. You can meet people individually instead of in packs, and don't have to worry about crossing the boundaries into elitist cliques.
3. Consider working with a friend.
There's a reason people tag-team in wrestling — it works. Bringing along a friend is like bringing a wingman on a date: you can promote each other's strengths and make yourselves look good, so you gain even more connections. Plus, for the shy introvert, they can do a lot more talking, so you just look like a really good listener.
4. Keep your conversations short.
Entrepreneur and TIME Contributor Rebekah Campbell suggests that having short conversations with a lot of people is better than a few deep ones, and easier for an introvert. She, like many introverts, finds it "difficult to form deep connections at events," so she is sure to get contact information and follow up later, maybe with a lunch or coffee date where the introvert would feel more comfortable.
5. Recognize your strengths and weaknesses, and use them accordingly.
Get creative with how you interact with people at events. Maybe you're shy in person, but on social media, you've got thousands of followers. Connecting with people at the event via social media before introducing yourself in person might be a great way for you to break the ice without as much stress. If you get nervous in a big group, but are better at one-on-one conversations, try to draw people away from their cliques and toward you so you can have an easier time connecting with them. Whatever you're good at, don't be afraid to use it to your advantage.
Networking can be scary for introverts who are used to keeping quiet and out of the way, but to get our name out there, we have to take the risk. Don't let the extroverts take control — you have your own strengths, too! Instead of worrying yourself to death about an upcoming event, show up prepared and early with a friend, and do what you can to build connections for yourself and your business — all it takes is practice.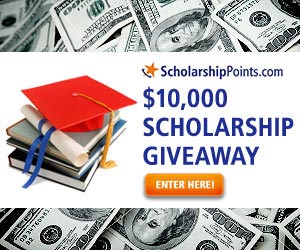 Win a $2,500 Scholarship!
Join ScholarshipPoints today and be automatically entered into our monthly $2,500 giveaway.