5 Misconceptions You Probably Believe About Living in Florida
1. The Not-So Sunshine State
A common misconception about Florida is its nickname, "The Sunshine State," which isn't really all that true. In fact, talk to any native Floridian and you'll find that the sun doesn't always shine. Our sunniest time of the year is late fall or mid-winter. However, summer time? Be prepared for random rain showers. There is no telling when it'll rain. The forecast might say that it'll be sunny all day, but wait a couple of hours and it'll look like a hurricane is passing by. Wait a couple more hours, and the sun will be shining, birds will be singing, and the ground will be dry. Another day it might say that it'll rain all day, but look outside, and the sky is clearer than your future. That's Florida for you.
2. Alligators
I can't name the amount of times I've been asked about alligators. Yes, a lot of Florida is made up of the Everglades; a gator paradise. That doesn't mean we see alligators all over the place! Of course, that all depends on which part of Florida you're in. Have I seen a gator? Sure, when I visited the middle of the Everglades. Have I ever just walked out of my front door to see a gator sunbathing on my front lawn? No, never. The closer to the city you go, the less likely you'll see a gator.
3. Immigration
With Cuba so close and America being "the land of the free," all of Florida must be chalk full of immigrants, right? Although this one isn't a full misconception - there are immigrants everywhere all over the country, after all - they are all mostly in the southern half of the state when it comes to Florida.
Miami, for example, is a diverse city filled with people from all over the world, but the farther north you go, the less diverse it gets. Once you pass Orlando, Florida becomes a very stereotypical "Southern American" state. I'm not saying that this is a bad thing - it isn't! Many people believe that Cubans must be spread densely throughout all of Florida, but that's not the case. There's places in South Florida where it's practically a necessity to know Spanish, but there are also other places where finding a Spanish speaker is like finding a needle in a haystack. In reality, the different cultures of Florida are no different than in other parts of the country.
4. The Beach
Another common mistake people make about Florida is that we're all "permatanned" and practically live at the beach. I mean, it is a peninsula, so there are plenty of opportunities to go to the beach, but 1.5 million acres of the state is also covered by Everglades National Park (think marshes, manatees and gators).
Also, just like other coastal states, not everyone lives near the beach. For many residents a beach trip takes planning (carpooling, gas money, food, and parking fees).
5. Retirement
It's no secret that Florida is considered the last stop in peoples' lives. "I just want to retire, move to Florida, and play golf," is a common joke in movies. I'm not going to lie; this isn't entirely a misconception. There is quite a large group of retired people that live out their last days in Florida. But Florida is home to a lot of people who haven't reached retirement age, too. Like any other place in the world, there are young people and there are elderly people. Florida has a bit of an unspoken divide within its cities that separates those at the end of life and those just barely beginning it.
For example, in my city, there's a neighborhood that is known for being filled with retirees, and the Publix grocery store near it is locally known as "the old people Publix." But, there's also a neighborhood surrounded by an elementary, middle, and high school that is filled with young students and families.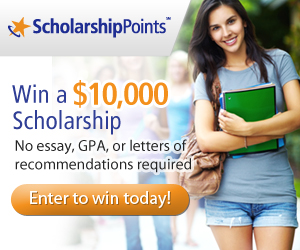 Win a $2,500 Scholarship!
Join ScholarshipPoints today and be automatically entered into our monthly $2,500 giveaway.