5 Inspirational TED Talks to Get You Through the Week
If you're having a bad day, need a pep talk, or some inspiration to get through your week, I have the solution: TED Talks.
TED Talks are powerful videos from expert speakers who share their stories and ideas to help others. Here are five of my favorites:
Lizzie Velasquez has a rare syndrome that doesn't allow her to gain weight. She has never weighed more than 64 pounds in her life. Lizzie talks about the benefits of her syndrome as well as the difficulties she's faced. When she started questioning how to define who she is, she learned that it's not about what's on the outside. Hear Lizzie's story and learn how to define who you are and love yourself no matter what.
Isabel Allende's talk begins with applause when she gives her age, which is 71 years old. She goes on to talk about aging, experiences, and attitudes. This talk is to inspire people of all ages on how to live - and keep living - passionately.
In this talk, Susan Cain discusses how our society favors those who stand out. But for some people, this is hard for them to do, and they are sometimes put down for it. Susan believes the opposite. If you are an introvert in need of some motivation, watch this talk ASAP.
Today, technology is advancing faster and faster, starting with the phones in our hands. We spend a lot of time on our phones and computers – college students especially. Abha talks about the role of technology in our lives and how we need to break free from it to truly experience the world around us.
As a psychologist, Kelly McGonigal always told her patients that stress is bad for your health. But when a recent study showed that more people died from the 'belief' that stress is bad for your health, she changed her methods. Now, she helps others look at stress in a more positive way to change their lives for the better. So, if you're stressed out, don't freak out! Watch Kelly McGonigal's talk on how to make stress your friend.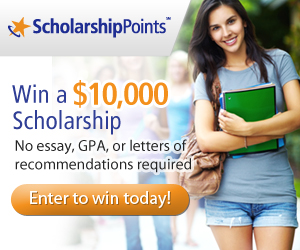 Win a $2,500 Scholarship!
Join ScholarshipPoints today and be automatically entered into our monthly $2,500 giveaway.