5 Fun Fourth of July Celebration Ideas for College Students
It's that time of year again: the time to celebrate America with fun, fireworks, and friends! July 4th is a highly-anticipated weekend with (hopefully) great weather and endless festivities to attend — but what happens when you're in charge of the party? If the 4th of July celebration is on you this year, here are some ways to entertain on a college budget:
1. Host a barbecue
Hosting a backyard barbecue is inherently American — and tasty! To plan for this, make sure you have ample drinks, chips, and BBQ foods like burgers, hot dogs, chicken, and ribs. You can even throw fruits and veggies on the grill, like pineapple and corn, to get that smoky taste without meat.
Once you have all the food, throw on an apron over one of your cutest 4th of July outfits, crank up some summer-y tunes, and get to cooking! Your guests will mix and mingle over the food and enjoy the ambiance of relaxing music. After eating, plan some party games or more dancing, and consider a bonfire to close out the evening. It will be a night to remember for summers to come!
2. See a fireworks show — at home or at the park
Nothing says 4th of July like fireworks! If you pick some small ones up from a local store to set off at your house, make sure you do it safely, by ensuring that your audience is ample distance from the flames, and picking up after you finish so that a fire doesn't start from the leftover sparks. Alternatively, find a show nearby and attend to see the big mortars light up the sky.
3. Throw a pool party
Keep your guests cool over the July 4th weekend by inviting them to swim! If you have a pool available to you, this is one of the best ways to keep people entertained for hours.
To decorate, consider picking up some red, white, and blue streamers and tiki torches to surround the pool area with. For snacks, try mixing foods with USA-pride colors, like red watermelons, white cookies with frosting, and blueberries — or even bake a colorful cake! This is a great opportunity to show off your cute 4th of July outfits and swimsuits, too, so don't be afraid to pull out your American flag bikini or your classic Old Navy t-shirt to show your patriotism.
Finish the night off by roasting marshmallows or making s'mores over a small fire pit for the perfect closing to your celebration.
4. Take a day trip
If spending the day at home is overdone in your friend group, try taking a trip this Independence Day weekend. If you're ready for some adventure, visit an amusement or water park and ride the waves. Many places even set off fireworks when night falls! Head to a nearby major city to view military memorials or attend a patriotic concert, and make sure you snap some photos to post on social media!
5. Volunteer to help local veterans
This is the cheapest way to celebrate July 4th — it costs nothing but your time. Our military servicemen and women have given up major parts of their lives to keep the United States free and prosperous, so they are the perfect recipients of some attention, especially on this occasion. Visit a local nursing home and listen to their life stories, help unemployed veterans prepare for job interviews, or work on an event to raise money for a veteran's non-profit foundation. Show your American pride and give back this holiday!
Whether you're spending the 4th of July with friends, family, or those in need, make it a memorable one by snapping a few photos, showing off your American pride, and creating memories that will last a lifetime.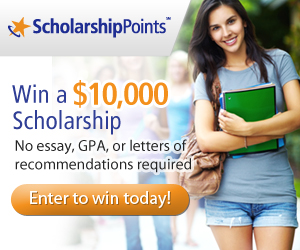 Win a $2,500 Scholarship!
Join ScholarshipPoints today and be automatically entered into our monthly $2,500 giveaway.