5 Common Interview Questions, and How to Answer Them
Getting ready for an interview can be extremely stressful, but, luckily for us, most interviews follow the same basic structure, and almost every employer will ask at least some of the same questions. By preparing for these standard questions, you'll have a leg up at any interview, no matter what job you're going for!
"What is your greatest strength/greatest weakness?"
While most interview questions can be answered on the spot without too much difficulty, this one will stump you every time if you don't have answers prepared. The trick to this question is to have a weakness that is a weakness, but is also a strength. Some classic answers are, "I'm a perfectionist," or, "I'm extremely competitive," but you can use whatever weakness you happen to have, that also has a positive aspect. Being an introvert is a good example: you're thoughtful and probably won't be starting any drama in the workplace. Be honest, but make sure you know what weakness is worth citing in this moment.
Your strength can be anything. If you're good at it, share it!
"Why should we hire you?"
You're asking for these people to give you money and put up with you on a regular basis. Give them a good reason to do so! Maybe you've got an excellent personality; maybe this job is your passion; maybe you're experienced in the field. Whatever it is that makes you the best candidate for this position is what you need to talk about. In the moment it can be hard to think of anything, which is why you should map out a solid answer before the interview, so all you have to think about is impressing your interviewer in the moment.
"Where do you see yourself in five years?"
Let's be honest, we're young. A lot of us don't have a one-year plan, let alone a five-year plan. You don't need to know what city your house and spouse will be in. You don't need to know the job title you'll have. You just need to know what you'd like to accomplish. Maybe you'll be well-traveled. Maybe you'll own a small store in northern Oregon. They don't need to be overly realistic. Be a dreamer. If you couldn't fail, where would you want to be in five years? By being honest about where you want to be, rather than where you'll "probably" be (because we're all pessimists at the end of the day), you're giving your future boss/hiring manager a glimpse at the passionate part of you. They like that.
"Tell me about yourself."
They don't need to know what bothers you about your boyfriend or that you broke your arm in third grade. Tell them about your hobbies, and what you're passionate about. Yes, again with the passion. Passion makes an impression. Do you love books? Do you participate in every protest in the nearest major city? Do you spend your weekends hiking mountain trails? Connect what you're saying to how it will help you in your role in the company. These things about you give insight into your character, and make you more interesting. Plus, you might find that you have something in common with your interviewer, which is a surefire way to become more memorable to them.
"Do you have any questions for us?"
It's easy to say no to this, and they probably won't think twice if you do. But I am begging you: Don't say no. This is your chance to show how excited you are about working there. Have a few questions prepared for them in return. Ask about the work environment, what would be expected of you, what big projects the company is working on right now, and what their favorite part about working there is. Not many people ask questions. Most employers won't forget the ones who do.
By preparing yourself thoroughly for even a few of the most common questions before your interview, you'll come across as much more confident, and you'll have a much better shot at the job. Happy interviewing!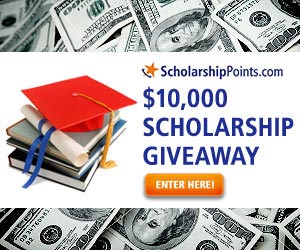 Win a $2,500 Scholarship!
Join ScholarshipPoints today and be automatically entered into our monthly $2,500 giveaway.