4 Signs She's the One
Whether you are in a long term relationship, or have just met her, you may be asking yourself the most important question. Is she the one? Use these insights to help you decide if she really is the one for you.
1. Future Plans
When you think of your future, do you immediately think of her in it? Do you think that she imagines you in her future? If she is the one, both of your answers should be "yes." The future is full of obstacles and breakthroughs, but if she really is the one, both of you will figure out a way to make sure your lives coexist. If you cannot imagine your future without each other in it, then she is most likely the one.
2. Do you agree and disagree?
A lot of relationships falter because there is no balance of opinions. If one person constantly agrees with the other, even though they actually disagree, the relationship may break down in the future. There should be a consistent balance of opinions, because no one is the same, and that type of thinking in a relationship can be unhealthy. Because no one is an exact copy of each other, each party in the relationship, should be able to fully express her or his opinion. If your relationship doesn't currently have a balance of opinions, don't worry. This is something both of you can work together to fix. If you both can find that balance of agreeing or disagreeing, this may be a sign that she is the one.
3. Compromise
As stated before, a healthy relationship contains a balance of opinions, but being able to compromise also plays a critical role in a healthy relationship. If you and your girlfriend are able to compromise, then this may be a sign she is the one. Compromises will play a huge role in both of your futures together, and is an important skill each of you learns. Compromises can range from anything from where to eat to where to live. If you and she are comfortable compromising with each other, then this may be a sign that she is the one.
4. Support
Does she support all of your dreams and aspirations (even the crazy ones)? A girlfriend who is the one will always show support and praise to show just how proud she is of you. Support can come in several different forms, and the best girlfriends practice every form. If your lovely lady supports you in everything you do, then this may be a sign that she is the one.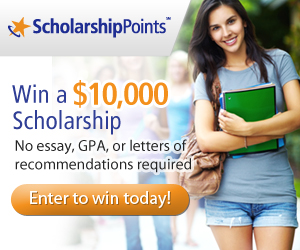 Win a $2,500 Scholarship!
Join ScholarshipPoints today and be automatically entered into our monthly $2,500 giveaway.