4 Questions to Ask Yourself Before You Decide on a Major
College can be intimidating. You have to decide where to go, what you want to major in, how you're going to pay for it, and what you plan to do with your degree for the rest of your life. No pressure.
Among all of this, one of most stressful aspects of starting college is choosing a major to pursue. There are tons of options to choose from, so how do you go about picking one that's right for you? Here are some questions you should ask yourself when making the big decision:
What's important to you?
Do you care about making a lot of money? Doing something you know you'll enjoy? Both? Answering this question is a good place to start, because it will point you in the right direction based on what's most important to you. Once you figure out what you want to gain from your degree, you're right on track to finding jobs that fit your desires.
What are your interests?
After figuring out what it is that you want to gain, think about what your interests are, and if you can find a major that matches. No matter what, you want to make sure you'll be happy. Finding a major where you'll be able to play around with your interests and gain additional skills will be a big factor in your happiness in the long run.
What careers have good outlook?
Once you have an idea on what path (or paths) you might want to go down, do some research on jobs within the majors that interest you, and find out what the outlook is like. Will jobs continue to be available in this field? Will this industry continue to grow over the next few years, or even the next few decades? How many jobs are projected to be available? This will make sure you don't get stuck years after graduating trying to find a job within your major.
What careers pay well?
Though not everyone admits it, we all want to make enough money to make a decent living. With this in mind, it's a great idea to research salaries for jobs you may be interested in within the major you're debating. Even if money isn't a deciding factor for you, it's still a good idea to be aware of the average pay for a career you may want in the future. This way, there are no surprises down the road.
Choosing the right major can be stressful, especially if you have several interests and are torn over what path to take. When it comes to making a decision, it's best to think about your future after graduating. So, focus on what career you might want and the lifestyle you want to live, and choose a major based on that. It's better knowing what it is you want to do while pursuing your degree instead of choosing a degree and winging it after graduation. It's easy to get discouraged when the people around you know exactly what they want, and how to get there, but don't let this stop you from following your passions!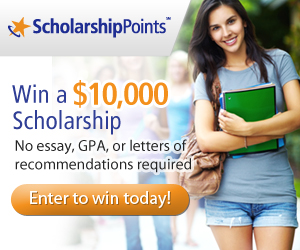 Win a $2,500 Scholarship!
Join ScholarshipPoints today and be automatically entered into our monthly $2,500 giveaway.