4 Podcasts to Listen to If You're Entering the Real World
Neuro-Linguistic Programming, or "NLP," is a fancy way of talking about fundamental components to the way we feel and experience life. With that in mind, some of the best podcasts you can listen to are NLP, because they help you prepare and focus on enhancing your many different mind and body processes, as well as your perception of reality.
While there are only ten podcasts available on iTunes, most of them lasting eleven minutes or less, there are eighty episodes available to listen to on their website for free! Smith's topics range from making a timeline for goals to motivating yourself to getting rid of anxiety. They can be very helpful if setting goals and time management are a weakness for you.
The "real world" includes working, unfortunately. So, you must keep in mind skills that you'll need when you enter the workforce. One skill many employers look for is leadership. This skill proves that you can handle managing your own responsibilities, while still being flexible enough to guide others through their tasks. It's not an easy skill to have, and there are many ways to go about leadership, since everyone responds to different actions in different ways. This podcast, with over 294 episodes, interviews leaders and discusses their techniques and success stories.
If you've ever watched a TED Talk, TED Radio Hour is the podcast version of it. Made by the same people (and some hosted by Guy Raz), TED Radio Hour covers a wide variety of topics ranging from "The Digital Industrial Revolution" to the "7 Deadly Sins" to "Forgiveness." Episodes are about an hour long, with updates every Friday, which means they're great for lengthy daily commutes.
Part of entering the real world is being aware of those around you. Opening your mind to learning a little bit about everything can help. TED Radio offers great insights into the world you're entering while you learn to be more aware of the people you share it with.
There's really no easy way to explain that life is hard. The real world will get you down sometimes, and picking yourself up and dusting yourself off isn't an easy thing to do. Knowing that, this podcast is essential for becoming a fully realized adult. Free on Mondays, with up to three months of previous daily episodes available, The Daily Boost is a podcast with the simple goal of getting your spirits and motivation up and reminding you that life is good, and if it's not, it'll get better.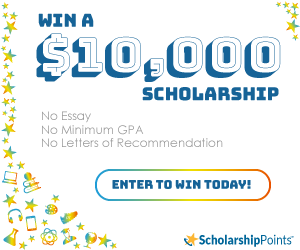 Win a $2,500 Scholarship!
Join ScholarshipPoints today and be automatically entered into our monthly $2,500 giveaway.