25 Things Everyone Should Do Before They Turn 25
1. Travel
Traveling isn't just a fantastic experience because you get to see new places, but traveling also gives you the chance to interact with different cultures and people. It's amazing how much you'll learn (about the world and yourself) by spending time in new environments.
2. Get Lost In Nature
This doesn't mean moving to a cabin in the middle of nowhere or sleeping under the stars for a week. It can be as simple as finding a hiking trail near you and just getting outside. You won't believe how liberating nature can be!
3. Dye Your Hair
Always wanted to dye your hair a certain color? Do it! Embrace that bright yellow or magenta mane of your dreams. Dying your hair is a way to express yourself, and you will feel great after you do it! If you are worried about it turning out okay, don't worry, it's just hair! You can always change it back.
4. Take a Risk
This can be anything on this list or not. Try something you're not so sure about. Try something you have never done, or better yet, try the one thing that popped in your head while you were reading this!
5. Spend a Week Without Television
Spending a week without TV may seem challenging at first, but after you start, you won't believe how much time you have for other activities. Technology, especially in our current society, has its way of taking over lives. Take your life back!
6. Try Something That Scares You
This is a little different from taking a risk. Instead of trying something you've never done before, try something you've thought about doing but have always chickened out of.. Trying something out of your comfort zone can be a great confidence booster.
7. Let Go of All Your Grudges
It's not worth your energy. Let. It. Go.
8. Go to a Concert
Go see your favorite band. Sing along, meet new people, and make it an experience you'll never forget.
9. Create Something
Whether you consider yourself artistic or not, everyone has ideas. Create those ideas, whether it's through words, paint, music, or random objects and a little glue.
10. Take a Road Trip
If you can't decide where to go, start by simply throwing a dart at a map and going! Bring your best friend or significant other for extra fun! Bonus: They can split the gas money!
11. Quit a Job
Currently at a job you hate? Quit. Have another job lined up before if you must. Life is too short to always be counting down the days until the weekend.
12. Pursue Your Dream Job
Go to a networking event, volunteer somewhere in your industry, join a meetup, or apply to your dream job! You never know what might happen.
13. Be Happy
This can be hard to do at times, but remember to put your happiness first.
14. Learn a New Language
Always wanted to hold a conversation in another language? Now is the time to learn. Learning a second language only gets harder with time, so get on it! There are tons of apps out there to help you.
15. Read 52 Books in One Year
That's one book per week. For an extra challenge, make them all over 300 pages (that means no Dr. Seuss).
16. Read 100 Books in One Year
Thought you were done after completing the above task? Try 100 books per year. That's almost two per week!
17. Deal with a Hangover
It's practically a rite of passage.
18. Treat Yo Self
Go out and buy something you've had your eye on for a while. Spoil yourself a little!
19. Spend Time with Your Family
Who knows how many days we'll get with our families? Take advantage of the ones you do have.
20. Dress Up as Your Favorite Character
Have a favorite superhero or TV character? Dress up as them for Halloween and pretend you're them for a day.
21. Watch Movies All Day with Friends
Have a movie marathon. Buy popcorn, candy, pizza, and just enjoy all of your favorite films with all of your favorite people.
22. Save up $10,000
Saving money is a great habit to get into, and saving up $10,000 is a good place to start. Keep it in your account and watch it grow!
23. Get a Pet
Having a pet is awesome. Take care of them and they will take care of you!
24. Run a Marathon
Who cares what place you finish in? Just focus on finishing.
25. Be Yourself
This may seem cliché, but it's one of the most important lessons to learn in life. Be you, explore what you want to, pursue your dreams, and don't let anyone or anything stop you.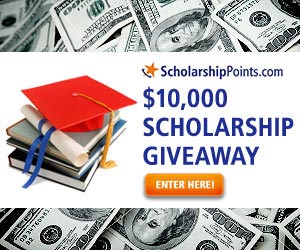 Win a $2,500 Scholarship!
Join ScholarshipPoints today and be automatically entered into our monthly $2,500 giveaway.