15 Ways to Bond With Your New Roommate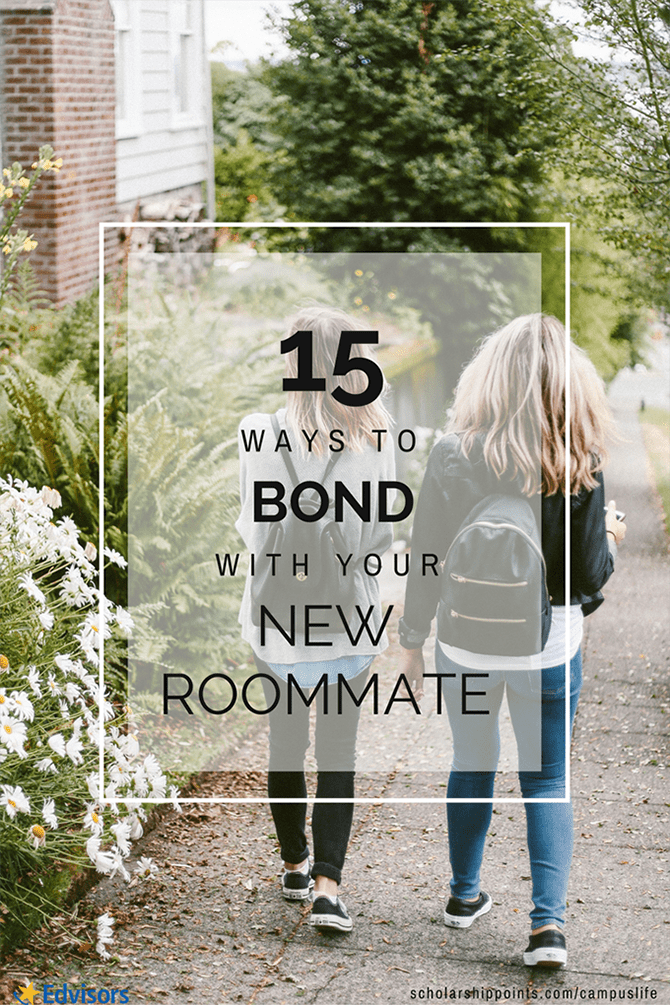 Getting a new roommate can be very exciting, but also very nerve-wracking. You are about to live with a stranger, after all. You start asking yourself a thousand questions: Will we get along? Will they be messy? What if we don't have the same sleep schedule?
Try to relax. With these ideas, you'll be on your way to best friends (or at least peaceful cohabitants) in no time.
1. Make a Roommate Agreement
Creating a roommate agreement will help set boundaries in the room, and keep things running smoothly. Establish study times and rules for borrowing each other's things. If you like to stay out late and your roommate doesn't, remember to be quiet and keep the lights off when you come in. Discuss your habits, put it in the agreement, and both of you sign it. You can even hang it up in your dorm.
2. Volunteer Together
Volunteering is a great way to bond with your roommate, and help others in need at the same time.
3. Watch a TV Show
Figuring out what you and your roommate have in common is key to getting along. Talk about the television shows that you really like, and have a marathon.
4. Video Games
If you are both interested in video games, bring the ones you have and play together. Make it a competition ("loser has to do the dishes!"), or just play for fun.
5. Decorate Your Dorm Room
You are going to be sharing the same space for a year, so come up with creative ways to decorate it together. You can even come up with DIY décor. You can cut pictures out of a magazine, hang up lights, and posters. Turn on some music and start decorating!
6. Yoga/Gym
After a long week of work, yoga or working out can be a great way to relax. Bring your roommate along and unwind together.
7. On-Campus Activities
Find out what activities your campus is having, and go with your roommate. Maybe it will be a movie, crafts night, or dance.
8. Treat Yourselves
For the girls, take a night to do each other's hair and nails. Talk about who you think is cute, how classes are going, or what events you're looking forward to.
9. Order Pizza and Junk Food
Eating a bunch of food that you'll regret later can be a lot of fun. Order food, invite friends over, and just chat. You'll learn plenty of new things about your roommate by the end of the night.
10. Party
Everyone usually parties at least once. Help each other get ready and have a fun night out!
11. Day in the City
Take a day off to go out in the city to hang out and do some shopping. You'll get to see what your roommate is like outside of school, and maybe get some new clothes, too!
12. Go to (or Cook!) a Meal Together
Even if it's just in the dining hall, you can use this time to bond with your roommate as well. Talk about the different foods you like, don't like, or can't eat.
13. Make a Bucket List
You each probably have specific things you want to do while at college. Talk about what they are, and combine your lists. It will be much more fun to complete it together. Don't forget to take pictures!
14. Do Your Homework Together
Even if you are not having full-out conversations, it doesn't mean you're not bonding. Take your class work and head over to the library and sit together. This can still help the two of you grow closer.
15. Explore
Take time to explore your dorm and campus together. Find out where everything is, and become comfortable with your new home.
Win a $2,500 Scholarship!
Join ScholarshipPoints today and be automatically entered into our monthly $2,500 giveaway.