13 Acts of Chivalry That Will Never Go Out of Style
In today's world, expecting acts of chivalry seems so…three centuries ago. This is the age of feminism. We don't need a man to take care of us! Even so, that doesn't mean it's not nice for your guy to show a little kindness and respect through a few simple acts. Being a gentleman (or, better yet, a caring human being in general) never goes out of style.
Holding Doors Open
What better way to be a gentleman than holding a door open for a woman? I also love seeing dads hold the door for their young daughters. This kind of chivalry should never stop.
Standing to the Side Closest to the Street
I love when a guy will move you over so he can stand or walk by the street. It makes the woman feel like he's always protecting and thinking of her.
Offering His Coat
A man offering his coat to a woman when she is cold is just the polite and sweet thing to do. She won't forget it.
Offering Some of His Food
She will be surprised but will gladly accept your offer.
Buying Flowers Just Because
Buying flowers on a special occasion will make a woman happy, of course. But buying them for no reason at all is what will get her attention.
Standing Up For a Woman
Nothing will make a woman look at you differently (in a good way) than standing up for her when she needs support. Just don't start a fist fight to "defend her honor." Most women aren't impressed when you lose your cool.
Being On Time
Whether it's for a movie date or just to hang out, being on time is something that will never fade away.
Spending Time with a Woman, Doing What She Likes
It's always a nice gesture to do something the woman enjoys, even if it's watching an episode of "Friends" when you've both seen it a hundred times already. Knowing he will do it anyway means a lot.
Giving Compliments
All woman love compliments, but meaningful compliments are the ones she will remember.
Being Respectful
This includes respecting her opinions, her values, and just her as a person.
Keeping Promises
Everyone wants someone they can trust and rely on. Keeping your word shows a lot about the kind of person you are. Even the simplest thing like calling when you say you will can mean a lot.
Making Sure You Get Home Okay
Having him by your side until you make it home safely is comforting. If you're not in the same place, a text or call creates the same feeling. When a man does this, a woman knows that he really cares about her safety.
Remembering the Little Things
It's an amazing feeling to talk and know you're being listened to. As women, we like to feel like the man is interested in what we're saying and wants to know more. This is something important we look for in a guy, especially when he remembers the little things we've mentioned.
So, guys - listen up! And ladies – it is 2017, after all, so there's no reason we can't do these things, too. When you get down to it, being chivalrous is just about being courteous and respectful to the people around us, and that's something that will never go out of style.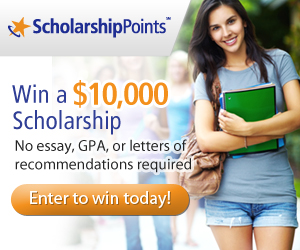 Win a $2,500 Scholarship!
Join ScholarshipPoints today and be automatically entered into our monthly $2,500 giveaway.