12 Movies That Defined Your Childhood
When all you wanted was a Motorola Razr, a pair of Heelys, and a closet full of Abercrombie. Simpler times.
If you were born somewhere around the mid-'90s to early '00s, you'll definitely recognize a few of these movies as childhood classics:
A DCOM classic. Three sequels followed, but the original (Marnie Piper finds out she's a witch, discovers the magic realm, and saves everyone from an evil warlock set on destroying Halloweentown) is where it's at.
Set in 2049, 13-year-old Zenon Kar is exiled to Earth after getting into trouble with the owner of the space station she and her family lived on. Once on Earth and struggling to fit in, she uncovers the owner's plan to crash the space station, and makes it her mission to find a way back home. Also: Raven-Symone as Zenon's best friend, intergalactic catchphrases ("zetus lapetus!"), and a pop performance so catchy you still remember it all these years later.
The cheer-ocracy that led us all into the world of competitive cheerleading and became a cult classic (spawning four sequels) in the process. Don't forget your spirit fingers!
(Or literally anything starring Mary-Kate and Ashley, but we all know this is MK+A gold.) In this gem, sisters Madison and Alex find themselves (and their winter break flings) in the middle of a crime involving stolen artifacts while on vacation in the Bahamas.
Admit it: you begged your parents for an Atlantis vacation after watching this one.
Mia Thermopolis is your typical awkward teenager just trying to survive high school — that is, until her estranged grandmother turns up out of the blue to tell Mia she's actually the heir to a small European country named Genovia. Through "princess lessons," a new bodyguard, and a head-to-toe makeover, shy Mia is pushed into the spotlight, and has to choose between accepting the throne and the quiet life she's always known.
The original Disney Channel starlet heads to Rome (along with best friend Gordo, nemesis Kate, longtime crush Ethan, and the rest of her classmates) on a class trip to celebrate graduating middle school. Once there, she finds unlikely fame when superstar Paolo mistakes her for his singing partner, Isabella (who, of course, happens to look just like Lizzie), and is turned into an international popstar overnight.
Amanda "Amanda, please!" Bynes (I mean, "Daphne") is an American teenager who runs off to London in search of a father who doesn't know she exists. The thing is, he's a prominent British politician, and free-spirited Daphne struggles to conform to his grand lifestyle. This is also admittedly awful, but you loved it anyway.
We all felt personally victimized by Regina George. I'd be willing to bet no one has made a more highly-quoted movie since.
It's Hilary Duff in this modern take on Cinderella. Yes, it is terrible. Yes, you loved it.
For the first time in their lives, four inseparable best friends are spending the summer apart. Lena is visiting Greece, Bridget is going to soccer camp, Tibby is stuck at home, and Carmen is spending the summer with her estranged dad. Over the summer, they stay connected by passing around The Pants, a magical pair of jeans that (somehow) fits all of them perfectly.
The short story: two tween girls befriend a mermaid, inspirational lessons are learned, and you never wanted to put aquamarine highlights in your hair so badly. (Your mom said no.)
And, finally: Harry Potter (2001-2011)
This list wouldn't be complete without The Boy Who Lived.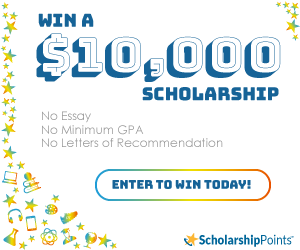 Filmography links and data courtesy of IMDb.
Win a $2,500 Scholarship!
Join ScholarshipPoints today and be automatically entered into our monthly $2,500 giveaway.