11 Little Ways to Show Your Significant Other You Love Them
Being in love is the best feeling in the world, and you want to be able to show your significant other how much you love and appreciate them. But that doesn't have to mean going out all the time or buying the most expensive things - there are plenty of other ways to show your love. Here are eleven:
Plan Activities
The best way to show someone how much you care is by making an effort. Go out of your way to do something special for the person you love. Plan out a fun date, even if it's just a simple movie or game night. Try something new together. Have good conversations, and make it a goal to learn something new about each other.
Give a Massage
Your significant other will definitely appreciate a massage, especially after a long day of hard work.
Small Gifts
A random gift here and there is a good way to remind your significant other how much you love them, whether it's flowers, jewelry, or even their favorite candy. It doesn't have to be expensive, just something small to show them you were thinking of them.
Listen
You may not think this is a way to show your love, but it is! Showing your partner that you're paying attention to what they say says a lot. It shows that you care about them and your relationship, even if you're going through some problems, as all couples do.
Offer to Help with Responsibilities
Show your love by taking some of the work load off your partner and offering to help. This can be anything from household chores to a big project at school or work. Even if they want to take care of it by themselves, remember that your support is just as important.
Flirt
Just because you're in a relationship doesn't mean you should stop flirting with your partner. Keeping the relationship fun will bring back the chemistry that originally made you fall in love with your SO.
Say "I love you"
Remembering to say the simplest things, like, "I love you," and, "I appreciate you," can really make a difference in the quality of your relationship. You can't say these things too much!
Candlelit Dinner
You don't always have to go out to a fancy restaurant. Instead, stay home, light a few candles, and prepare your SO's favorite meal as a surprise.
Leave Notes
Leave little "I love you" notes and other loving messages around your partner's house, room, and on their bathroom mirror, so they won't forget how much you mean to them. If you can, try sneaking a note in their pocket or in their bag. They'll be happy to find it (and amazed that you got it there without them noticing!).
DIY Scrapbook
Head to the crafts store to save money on scrapbooks, paper, and markers. You can create a simple scrapbook with pictures and personal notes. Your significant other will love looking at the best times you've shared together.
365 Day Jar
This is another great DIY project that will certainly show your partner how much you love them. All you need is a jar, some construction paper, scissors, and a pen. Cut up the paper and write different things on them, based on the color. For example, red can be reasons why you love your partner, yellow can be cute jokes, etc. Make 365 so that your partner can read one each day. It will take some time to make, but it'll be so worth it.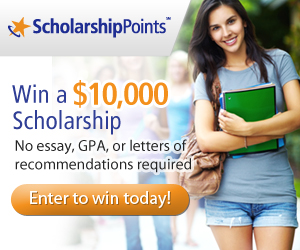 Win a $2,500 Scholarship!
Join ScholarshipPoints today and be automatically entered into our monthly $2,500 giveaway.