10 Questions You Should Always Ask at the End of A Job Interview
So, you've just waded your way through another job interview and you come to the fateful, final, question. Do you have any questions?
I know that you want to say no. We all do, but please don't. Recruiters and managers go through hundreds, if not thousands, of interviews, and when they ask that question, you can bet that they're expecting a no. Practically everyone says no. A surefire way to stand out at an interview is to make an impression right at the end by drilling them as much as they drilled you. Remember, an interview should be as much about you impressing them as it should be about them impressing you. Here are a handful of some good questions to bring with you to your next big interview!
How would you describe the work environment here?
Is it laid back? Is it friendly? Is it somber? Get to know what kind of environment you'll be walking into on your first day before you even have the job. This is a good way to gauge whether or not this job is a good fit for you and your personality.
What are your/the managers' biggest pet peeves when it comes to employees?
Do they hate when people stand around doing nothing? Does a sour attitude make them want to lay off the whole floor? Find out what the biggest no-no's are that aren't in the rule book, and you're already well on your way to becoming a favorite among your superiors, which will come in handy when you're looking for a promotion or a good reference.
What is the best part of working for this company?
Do they have one funny guy who makes everyone's day? Are the holiday parties to die for? Find out what people love about your potential workplace. And if the interviewer has trouble thinking of anything, take note of that, as it may be a sign of a fairly dull environment.
What would you say is the worst part?
This question can take people by surprise, as it's both highly unusual and rather uncomfortable for them. Ask it anyway. It's important to know. Is there a lot of tension between the higher ups and your future coworkers? Are customer relations poor? Does Jerry on the third floor always heat up fish in the break room? Find out. It's best to know in advance what the worst thing is so that you can either prepare yourself, or turn down your potential job offer.
How would you rate general job satisfaction within this company?
Do people love their job? Do they hate it? Are people simply content with it? This is a good question to ask, but keep in mind that it's their job to upsell their company to you, and they'll probably make it sound a bit better than it really is.
What is the employee turnover rate?
How fast are people leaving the company? Are they more commonly quitting or being fired? Is it an even split? No matter what the answer is, it gives you a good look at how people feel about their jobs and how high job security is within the business.
What are the company's/this branch's current goals?
Are they looking to expand? To take in more revenue? Of course both of those are a given, but what is their main focus right now?
If hired, how would my role affect the company from a wider viewpoint?
You should already know the job description. You should've known it from the moment you applied. But now is the time to find out how that job affects the company as a whole. How important are you, at the end of the day, to the regional management team? To the CEO?
How abundant are opportunities for advancement, and at what point of employment do those opportunities begin to become available?
Will you have to work here for 10 years before you get a single raise? Are raises given based on merit or how long you've been there? Is there plenty of internal mobility, or are your options limited to a single ladder-climb with high competition? Find out. If there aren't opportunities for advancement readily available, this job might not be right for you. Or at least, it's not one you'll want to stay with long term.
Where do you see this company in five years?
Is the future of the company looking bright? Are there any big changes headed their way? On the flip side, is the company doing poorly? Is it looking as though the next year's budget will allow for bigger and better things, or will call for mass layoffs? Chances are that your interviewer won't have all the answers, but they may, at the very least, be able to give you a general idea of what direction the company is currently headed in.
These questions are all excellent, but by no means should you stop here. Do your research and come prepared with questions regarding your job, your employers, the company's history, and how you'll fit in, so as to improve both your image during the interview, and your preparedness should you receive the job!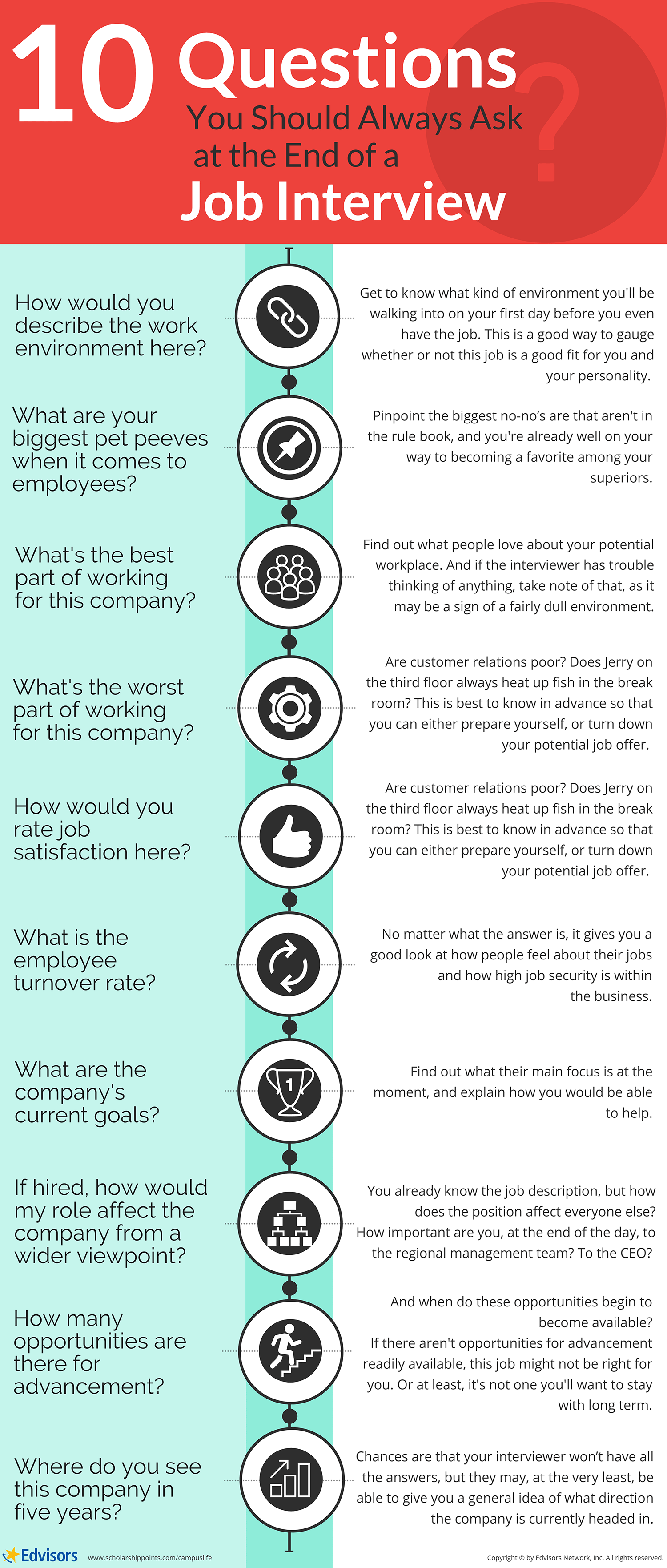 Win a $2,500 Scholarship!
Join ScholarshipPoints today and be automatically entered into our monthly $2,500 giveaway.